Good Morning Cheesy1's,
With the @JHBCheesy1 Twitter page continuing to grow in size I'm increasing my following from local New Forest businesses, and one such local business is The Filly Inn at Brockenhurst. In the last 6 months its reins have been taken over by Jim & Ruth who have brilliant plans to bring more Hampshire & New Forest foods to punters plates, and in Ruth's words "We are encompassing the local produce from the New Forest". On Thursday 23rd April I attended a special menu preview evening where The Filly Inn laid on miniature versions of some of their core dishes from the new menu. When I arrived I was treated by a tipple of my choice and opted for a glass of prosecco. While sat there building up my hunger more guests started arriving so I began to mingle and after a few moments I met Polly & Shirley from Pastures New who run the #LymingtonTweetUp. They are both lovely ladies and I decided to stay with them for the course of the evening.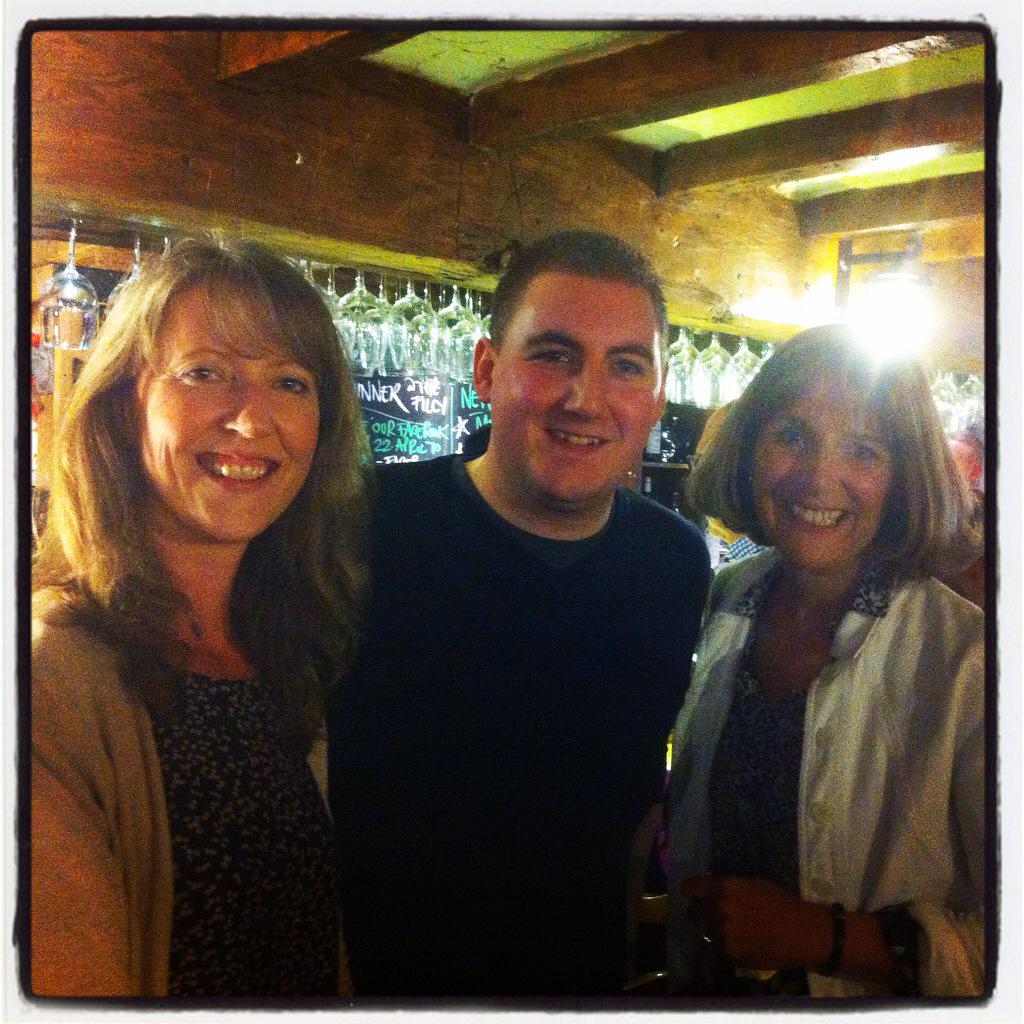 After studying the menu which you can see here at Filly MENU SUMMER 2015 I was very much looking forward to the delights that they were going to serve, and to start the evening was an antipasto starter which was a nice way to ease us in with lots of fresh charcuterie. The menu was recreated in miniature versions and because I was served nearly the whole menu I shall pick out my highlights from the evening.
The first is the Black Pudding Scotch Egg (Starter):
This maybe what you consider having at a picnic but once  you've tasted these you will think twice! The Black Pudding is from Owton's Butchers Hampshire and the egg from Fluffets Farm Fordingbridge. Served with rustic leaves & tomato mayonnaise the combination of the two when warm & the egg yolk is runny it simply is divine.
Simplistic but delicious!
My second dish is Funghi Trifolati (Starter):
More than suitable for Vegetarians this dish consists of wild mushrooms foraged where possible from in & around the New Forest. Add in garlic, garden thyme, toasted croûte & a drizzle of truffle oil this light starter works together for a very earthy & deep flavour that will certainly please discerning palates.
My third dish is steak & ale pie (Main):
This is a beautiful version of a popular favourite with any pub and at The Filly it is made using Hampshire beef & House ale. The pastry is complete and isn't just a lid on a ramekin and the pastry itself was buttery & light without being doughy or too thick. The filling was full of gravy with some root vegetables but the steak is where it sets itself apart, because it was flaky & tender; beautiful. Served with mashed potato & braised red cabbage.
My fourth dish is White Chilli Chicken (Main):
A warming dish that contains tender chicken a variety of spices, chilli, red onion and coriander. This actually turned out to be one of my favourites from the evening as I wouldnt normally order this but it certainly proved me wrong. Served with a rice timbale & floured tortilla this dish packs in the flavours and the spiciness to create a wonderfully hot dish, but with flavours you can appreciate and not reach for a glass of milk!
My fifth & final dish is a dessert called a Chimichanga (Dessert):
The term chimichanga refers to a burrito style dish of Mexican origin from 1922 when somebody accidentally dropped a pasty into a deep fat fryer. They then recreated this using a flour tortilla, but while typically savoury the Filly inn instead fill it with strawberry cheesecake, coated in cinnamon sugar and served with a tropical mango dip & vanilla ice cream. This was a new experience for me and is like a love child of a doughnut & crepe. The refreshing edge of the mango puree cuts through the sweetness to make this an incredibly moreish dessert.
I have no doubt that The Filly Inn will go from strength to strength particularly with this new menu. Everything I tried was fresh, beautifully presented & full of flavour. So if you're looking for somewhere to eat out on the spur of the moment or while you're on holiday in the New Forest then definitely check out The Filly Inn. For enquiries & table reservations you can call The Filly Inn on 01590 623 449.
Thank you for a wonderful evening and good luck to you Tim & Ruth with The Filly Inn!
( I will be returning soon for more delicious local foods 🙂 )
The Cheesy1