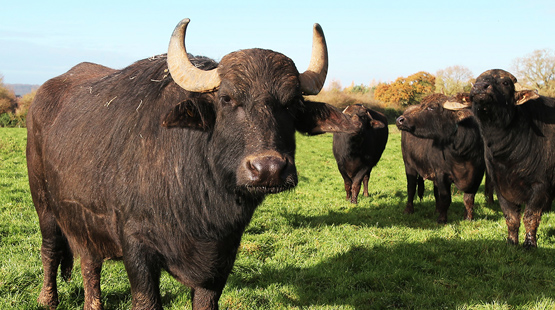 Good Morning Cheesy1's!
It's not often we get to enjoy the big, bright, golden shiny thing in the sky but today is one of those days! It is also the perfect day for a wonderfully light cheese, Halloumi or in this case Buffaloumi. Buffaloumi is the newest creation from Laverstoke Park Farm which is located in Overton, Hampshire where they have over 2,500 acres of bio-dynamic & organic farming. Created by former Formula 1 driver Jody Scheckter he set out to create farmland that "would follow nature as closely as possible, combining 21st century science, together with the most environmentally friendly farming methods available." If you have ever had the chance to sample any of Laverstoke's produce then you would have tasted first-hand just how different their produce is and how production methods reflect in this.
Recently on Twitter Laverstoke park connected with me and offered to send me some of their wonderful Buffaloumi cheese for me to try. A few days later arriving perfectly chilled & packaged was the Buffaloumi, not just one but two types!
I decided the best way to try the first one was part of a rather large 10 cheese platter for dinner (I know I love cheese!) and that way it would give me the purest way to sample it. The second will be used to make Halloumi fries in the future for the classic but delicious meal.
With the very first bite you get that traditional 'squeaky' noise & mouthfeel which you either love or hate, I personally love! It is has a very clean flavour with the perfect balance between the richness of the cows milk & the very mild tang of the buffalo milk. The saltiness cuts through at the end but adds a depth of flavour to this already wonderful example of a Halloumi.
For me it is very easy to eat it on its own but I know that won't be for everyone so if you serve it with a side salad or as a halloumi burger you would not be disappointed. The addition to Buffalomi adds to an already great cheese line-up with their buffalo mozzarella being a favourite of mine already.
I'm in the process of organising a visit for the not to distant future as I'm only 1 hour away and I would like to see for myself their wonderful farmland and cheesemaking process.
If you are interested in finding some for yourself check out their where to buy page here.

I hope you all enjoy your bank holiday weekend and the shiny thing in the sky!
The Cheesy1